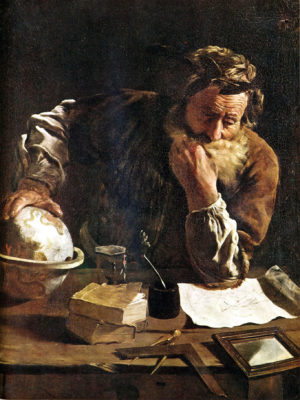 American Dissident Voices broadcast of June 6, 2015
by Kevin Alfred Strom
ON THE ISLAND of Sicily, 2,200 years ago, a White man contemplated infinity. His name was Archimedes.
When you extend a dimensionless point into a line of any length, he reasoned, that point must be repeated in its new dimension an infinite number of times, and that is true no matter whether the line is a thousand million miles in length — or the length of your little finger. A paradox: How can one infinity be so obviously larger than another, or be larger at all? (ILLUSTRATION: Domenico Fetti – Archimedes Deep in Thought [1620])
Trying to solve a problem, Archimedes then reasoned about infinity from another perspective: If you create, for each integer in a list — such as one, two, three, and so on — a matching even number, so that one is matched to two; two is matched to four; three is matched to six, four is matched to eight, et cetera, then you have an even more astounding paradox. That series of matching numbers can, obviously, be continued without end — and you will never "run out" of even numbers to match with the integers. So you end up with the following paradoxical conclusion: The set of all integers and the set of all even integers are the same size. Obviously true — yet, how can it be true?