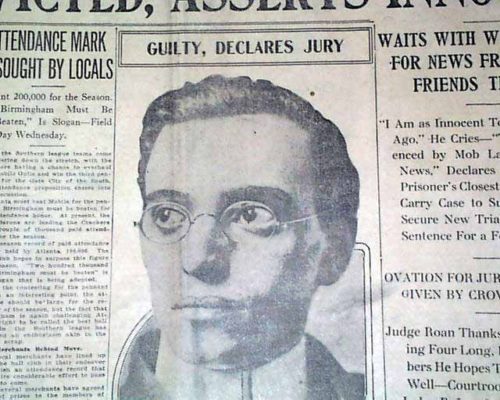 EDITOR'S NOTE: On the 100th anniversary of its original publication, we are proud to present this, Tom Watson's hard-hitting article on the Leo Frank case — the case which served as a prototype for modern Jewish propaganda and manipulation, and which inspired the creation of the Defamation League. We present this piece in both text and audio book format. The audio version was recorded by Vanessa Neubauer.
A%20Full%20Review%20of%20the%20Leo%20Frank%20Case%20Full-A
by Thomas E. Watson, Watson's Magazine, Volume 20 Number 5, March 1915
ON THE 23rd page of Puck, for the week ending January 16, 1915, there is, in the smallest possible type, in the smallest possible space, at the bottom of the page, the notice of ownership, required by law.
Mankind are informed that Puck is published by a corporation of the same name, Nathan Strauss, Jr., being President, and H. Grant Strauss being Secretary and Treasurer. You are authorized, therefore, to give credit to the Strauss family for the unparalleled campaign of falsehood and defamation which Puck has persistently waged against the State of Georgia, her people, and her courts. Inasmuch as the Strauss family once lived in Georgia, and are loudly professing their ardent devotion to the State of their birth, you may feel especially interested in Puck.
Continue reading Audio Book — Tom Watson: A Full Review of the Leo Frank Case →