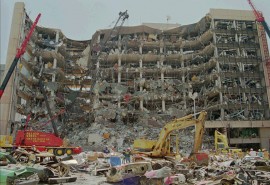 by Kevin Alfred Strom
ON THE one hand, we have the conspiracy theorists who say that Timothy McVeigh was a patsy. On the other hand, we have hours of tapes in which McVeigh admits he committed the act.
But these are not mutually exclusive propositions. One does not preclude the other.
McVeigh may have been followed, encouraged, guided, and then taken advantage of — with extra explosives as "insurance," as the efficacy of a truck bomb some considerable distance from the building was naturally doubted by the experts involved.
I was listening to the radio in the minutes and hours immediately after the event, and there were definitely reports of additional bombs inside the building — which stands to reason, considering the massive damage.
It was also extremely suspicious that McVeigh, shortly before the attack, placed a number of apparently pointless telephone calls.