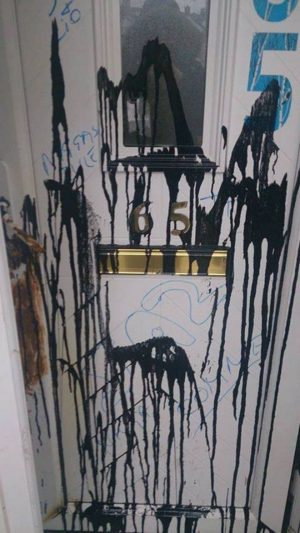 American Dissident Voices broadcast of February 21, 2015
by Kevin Alfred Strom
WHEN YOU think of Great Britain, what do you think of? The greatest European empire the world has ever seen? The pinnacle of of White artistic achievement, as personified in the sublime painters of the Royal Academy a century or two ago? Shakespeare? Wordsworth? Dante Gabriel Rossetti? Conan Doyle? The great scientists — Maxwell, Newton, Wallace, Darwin? Edward Elgar? The British Museum? Stonehenge? Well, if you thought of any of those things — any of the jewels of White European culture that the British Isles have given us — well, you're behind the times, man. You're out of it.
Let me tell you about the new Britain that's been built in just the last few decades.
Just yesterday, a young White woman who lives in Coventry, England, Sammie Sunter — a mother of two young sons — was driven from her home by Blacks who splashed paint and feces on her door (see picture), plastered anti-White graffiti, and left notes threatening violence, telling her in no uncertain terms to get out now, Whitey, while you still can. Here are some exact quotes from the notes Miss Sunter found in her letter box: "Black power — don't stay too long, or else." "We are watching you, White bitch. Africa rules." "These flats are for Black sisters and brothers, Willenhall is Black, so f*** off." Sammie Sunter and her two sons, ages two and five, were forced to leave their new home as they no longer felt safe there.