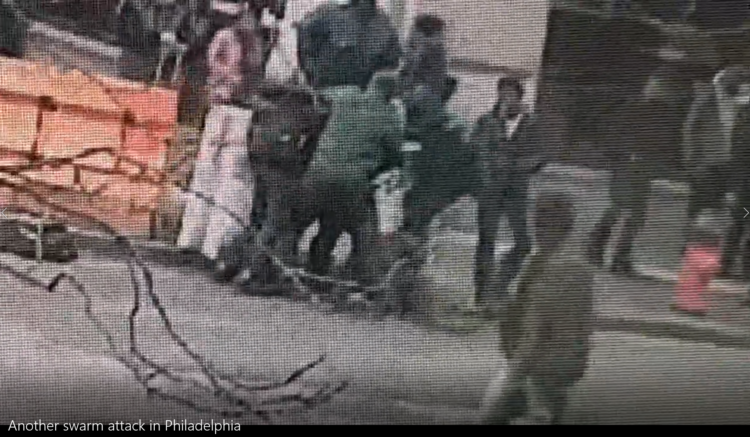 American Dissident Voices broadcast of 23 November, 2019
by Kevin Alfred Strom
AMERICA used to be the land of the free and the home of the brave. Now it's the land of swarm attacks. And an uncaring occupation government.
Just a couple of days ago, a swarm of Black "students" in Philadelphia attacked an older White man who made the mistake of getting out of his car to confront the "youth" who had just for no reason at all, kicked the rear-view mirror off his car. The grey-haired White man was immediately swarmed by the vandal and half a dozen other "youths" and left bleeding and seriously injured on the sidewalk. The Blacks instantly swung into action, and the White man was down and left for dead within seconds. Their coordination was immediate — instinctive — and effective.
Although the word "Black" is of course never used in their report, the local controlled media's piece on the incident is still very compelling, and I'll share it now. Listen:
Philadelphia police are investigating after a man was severely beaten by a group of students in Center City on Wednesday afternoon.

It happened around 1:30 p.m. near 15th and Chestnut streets.

Video shows one of the suspects kick the side view mirror of a white vehicle and smack it off into the intersection. The driver immediately gets out to confront him. Then a mob of students start kicking and punching the driver repeatedly until someone breaks it up.

The victim is left motionless on the street until an ambulance comes.

Philadelphia police confirm that the students are from PET Charter High School nearby. Police have identified all seven students involved and arrests are pending.

But those around here say the students putting a man in hospital was just the boiling point.

"It's a madhouse. Police are here every day," said one person who lives nearby. "In fact, someone who works at a local apartment building tells me a few weeks ago some kids came into the lobby, he chased them out and, as a result, they threw a brick at him and hit him in the leg," the person added.

Police say Wednesday's victim was hurt badly. He remains in serious condition at a local hospital.
In the text version of this broadcast on nationalvanguard.org you'll be able to view the actual footage of the attack. That report is from Philadelphia's WPVI, a controlled media affiliate of Jewish-owned ABC. Notice that they call the White man — who was left for dead for all his Black attackers knew — they call him simply "Wednesday's Victim." Wednesday's victim. So many implications in that simple but very strange phrase. He wasn't a victim of a Black swarm attack. He wasn't a victim of the planned replacement of Whites by non-Whites. He was "Wednesday's victim" — a victim of a day of the week. So similar to another oft-repeated phrase — "gun violence." As if it's the guns that are violent. Another implication of the term "Wednesday's victim" is that there is also Thursday's victim and Friday's victim, and not only one but many for every single day of the week for the last fifty years — since the "civil rights revolution" — and there's an implication that is certainly true.
And notice also that the White man who was left for dead is never named. And thus never humanized. No worried, crying wife or children, no outraged co-workers, no calls for a national program to curb the tsunami of anti-White violence. Nothing. Except "teens," "youths," "kids," "students." Oh, and "arrests." They're planning, they say, to make arrests. I am sure that justice will be done by Philadelphia's head crime-fighter, the grandson of Russian Jewish immigrants named Larry Krasner who is basically owned by George Soros.
This all took place right in center city Philadelphia, a fairly shiny and polished place compared to the rest of the city. As the TV reporter said, "steps from the capitol." Yet local residents and businessmen say that these Black swarm gangs are attacking and vandalizing and stealing and threatening all the time. And apparently they rule the streets. One thing the reporter said (which was for some reason removed from the WPVI article they posted) was that of all the business owners and residents he approached, only one was willing to speak with him on mike, and even that one said he wanted to keep as far away from any camera as possible for fear of retaliation.
So this is what it's come to. Where Jefferson and Franklin and Washington once walked, White people are attacked, and the other White people cower in their homes and places of business, afraid to even speak of the attackers for fear that they may be next, and knowing at least subconsciously that law enforcement offers little protection for them — and also knowing that they themselves will be the victims of the media — losing their jobs or their businesses — if they speak out with utter truthfulness about precisely who is terrorizing them. America is a sick country — a very, very sick country.
And here's another incident that just happened in DeKalb, Illinois, that also illustrates how far America has fallen:
In the text version of this broadcast on nationalvanguard.org you can see the swarm attack as it happened. A young White man, Jeremy Lloyd, got into an argument with some Blacks and allegedly used a word they didn't like. So they decided to beat him down. But this young White man in a DeKalb park was prepared to defend himself and had a knife. And he preserved his own life and limb because he took that precaution. Some of the Blacks transparently lied to police and claimed that the lone White man purposely started the fight because he was "racist." Jeremy found himself charged with multiple felony counts of battery.
The swarm attack was captured on video. Because it was captured on video, the absurd charges including "aggravated battery to a child" were dropped. But the politically-connected police department is still charging him with a "hate crime." A felony hate crime that will scar this young man — 18 years old — for life. Here's what the very Politically Correct controlled media had to say about the incident (they definitely don't call it a swarm attack, because as far as they're concerned the only attack was by the "racist" White man on the Black "children.") Here's the report, originally from an affiliate of Jewish-owned CNN Radio:
WLBK reports that an 18-year-old DeKalb man is charged with hate crime following a stabbing Wednesday in Hopkins Park in DeKalb, but aggravated battery charges he was initially facing have been dropped.

In court documents, DeKalb Police say witnesses told them that a suspect later identified as Jeremy Lloyd had been calling an African American minor the N-word.

Police say the witnesses that they talked to after being called to Hopkins Park shortly after 6:00 p.m. on Wednesday night also said Lloyd asked the minor to fight and threatened to kill him. [How likely is that? Facing a swarm of Blacks, a White man announces he's going to kill one of them? Good grief, this is an obvious lie concocted by someone with a tiny IQ.]

DeKalb Police Cmdr. Bob Redel says the stabbing happened following an altercation between one person and a group of people. [Wow. Between one person and a group of people. How informative. We need to do something about the people problem.] Redel has said a knife was used.

Police say witnesses told police that Lloyd had left the park in a vehicle and provided descriptions. The vehicle was found by officers.

Police say Lloyd told officers that he went to Hopkins Park to confront the minor, and police say Lloyd called the minor the N-word during the interview.

Police say another minor also identified Lloyd in a photo lineup.

Lloyd was arrested and taken to the DeKalb County Jail.

Lloyd was initially charged with aggravated battery to a child, three counts of aggravated battery with a deadly weapon and three counts of aggravated battery that caused great bodily harm, [that's seven life-destroying felonies] but all those charges were dismissed by the DeKalb County State's Attorney's Office [gosh, I wonder why? — could it be because the video surfaced and it was obvious who really attacked whom?] and Lloyd has been charged with a felony count of a hate crime. [I see. He was defending himself, so no battery charges. But we can still ruin his life and put him in a Hell-hole for years where he might not come out alive — because he said a word that the Jews have decided must never be uttered by White people.]

State's Attorney Rick Amato says the charges were dismissed based on new evidence that surfaced Thursday morning. Amato says the most appropriate charge is hate crime; although, he says the matter is still under investigation.

…No arrests have been announced.
Yes, indeed, except for Jeremy, that is, "no arrests have been announced." Of course not. The young White man defending his life from a swarm attack is the real problem here. He's a "hater" because of a word he used in the heat of the moment that some of the swarm members felt was insulting. And when the swarm members tried to give young Jeremy a little "social justice" with their fists and boots, Jeremy committed the "hate crime" of resisting the swarm. Maybe he should get 400 years for hate-motivated self defense just like James Alex Fields got for trying to escape another kind of swarm — an Antifa swarm — and having an auto collision that may have accidentally caused the death of a woman named Heather Heyer. (If he wasn't a White man known to want his race to survive, Fields might have gotten just a trivial charge and trivial sentence and might even have walked, as people convicted of unintentional manslaughter often do.)
Don't be downcast by these stories of horror and injustice, my friends. Yes, they should outrage us and spur us on to reclaim our land and found a new government to replace the alien thing that has been imposed on us. Outraged, yes — downcast, no.
There are still many more of us than there are of them. And, if the comments on social media where these videos were posted are any indication, well over half the Whites who care enough to comment might as well be National Vanguard readers — and some of them probably are.
We are growing. They are desperate. All we lack is organization. That is why you should join and support the National Alliance.
* * *
You've been listening to American Dissident Voices, the radio program of the National Alliance. The National Alliance is working to educate White men and women around the world as to the nature of the reality we must face — and organizing our people to ensure our survival and advancement. We need your help to continue. Please send the largest contribution you can afford to National Alliance, Box 4, Mountain City, TN 37683 USA. You can also help us by visiting natall.com/donate. Once again, that address is Box 4, Mountain City, TN 37683 USA. Until next week, this is Kevin Alfred Strom reminding you to never give up.
This radio program and 24/7 radio network are entirely listener supported, and have been for almost 30 years. We received more than 200,000 visits to our site last month, more than some medium-size "mainstream" news outlets. Our outreach is constantly growing. But we totally depend on that responsible, caring, adult fraction of our listeners to stay on the air. Won't you join their growing ranks?
All we ask for is a donation of $50 each year — less than $1 a week. Are we giving you personally at least that much value? Simply visit natall.com/donate — and choose the $50 option to give online.
For a donation of $250 a year, under $5 a week, we'll send you our printed National Alliance BULLETIN each month. It's America's longest-running pro-White publication. Just choose the $250 option at natall.com/donate and let us know you want to receive the BULLETIN. If you prefer to donate via postal mail, just write us at National Alliance, Box 4, Mountain City, TN 37683 USA. That's Box 4, Mountain City, TN 37683 USA. And thank you for your help!