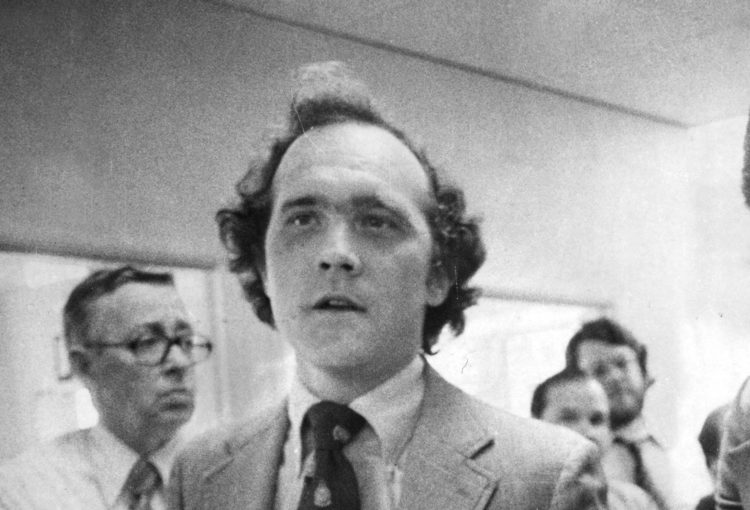 Wherein we discover what "judenrating" is.
American Dissident Voices broadcast of May 12, 2018
by Kevin Alfred Strom
WHEN THE JEWS ran the administration of their own ghettos in German-occupied territories during World War 2, that administration was called the Judenrat. Among Jews, there's quite a controversy over the actions of the Judenrat, since although some of these councils covertly impeded German efforts, including efforts to segregate Jews, others fully cooperated with the Germans in many things, some even helping to arrange for the identification and location of subversive or criminal Jews and arranging for their deportation — and Jews today generally allege that deportation was a synonym for extermination. Jews themselves therefore acknowledge that Judenrat leaders are guilty of exactly the same crimes against Jews for which Germans have been imprisoned, executed, and made to pay reparations for seven tenths of a century now with no end in sight. Yet neither the Judenrat leaders nor their beneficiaries or descendants have spent a single day in jail for what even the Jews admit they did — they in fact have benefited just as much as any other Jew from the "Holocaust" racket that has been paying off plentifully since 1945.
A correspondent of mine has suggested, and I concur, that we should propose a new term — Judenrating, or let us perhaps Anglicize it to Judenrating  — for the Jews' inveterate habit of accusing Gentiles of the crimes of which they themselves are guilty — and guilty in the extreme. Leonard Dinnerstein and other Jews accuse Whites and other Gentiles of "hate" — but hate of non-Jews is the watchword of Jewish psychology — and of Judaism's texts from the Torah to the Talmud — and of the mass media controlled by secular Jews who push hard for White genocide in every possible way.
Leonard Dinnerstein is the modern prophet of Judenrating. His work, beginning in the 1960s, reiterated and publicized, and clothed in pretended scholarship, the claim that Atlanta B'nai B'rith president Leo Max Frank was prosecuted and convicted of the sex murder of his sweatshop employee, 13-year-old Mary Phagan, solely because of pervasive Southern anti-Semitism. Despite his shoddy research and outright fraud, Dinnerstein has been massively influential in shaping the media's portrayal and the public's perception of Leo Frank, the murder case against him, and Southern White society.
Where Dinnerstein left off, others have taken up the Judenrating with enthusiasm.
Let's look at one particularly ridiculous claim stemming from the Leo Frank case. It's Dinnerstein's disciples, not Dinnerstein himself as far as I have been able to discover, who have promoted this claim. The earliest evidence of it that I have seen comes from the New York Times and the Nashville Tennessean circa 1982, during the first promotion of the Alonzo Mann hoax, but if any intrepid researchers can find an earlier example, please let me know. The one man linking the Times and Tennessean pieces is one Wendell Rawls, Jr., who, like Dinnerstein, secured fame and "made" his career by being an advocate for the Jewish narrative on the Leo Frank case. Rawls received numerous awards and eventually rose to be the head of the leftist and Soros-linked "Center for Public Integrity."
We've already established that "widespread Southern anti-Semitism" — supposedly so powerful and pervasive that it inspired Southern Whites to convict an innocent Jew and let a guilty Black murderer of a White girl go free — actually did not exist, and that outside of Israel there is no place, then and now, more philo-Semitic than the American South. Yet Dinnerstein's disciples continue to vend the story that, in the wake of the Leo Frank case, literally half of the Jews in Georgia fled the state out of fear for their lives.
• A Jew named Neil Silberblatt in reviewing a work by another Jew, The Lynching of Leo Frank by Zvi A. Sesling, says "Frank's lynching was the impetus for the creation of B'nai B'rith's Anti-Defamation League in October 1913. It also resulted in the exodus of around half of Georgia's 3,000 Jews." (Note also that they don't even bother to research how many Jews were in Georgia at the time, which was more than three times the number claimed. They also place the lynching two years before it actually took place, and make a 1915 event the "impetus" for a 1913 "founding.")
• The Jewish-controlled New York Times told us as long ago as 1982 that after Frank's death, "In the aftermath of terror, about half the 3,000 Jews in Georgia left the state."
• The Jewish Telegraphic Agency reports that, after the Frank case, "Armed anti-Semitic mobs roamed the streets of Atlanta, forcing Jewish shopkeepers to board up their places of business. Jewish businesses were boycotted and about half the state's 3,000 Jews reportedly moved away. Those events led to the formation of the Anti-Defamation League of B'nai B'rith."
• The Times of Israel claims that "Half of the state's Jews fled Georgia following the lynching."
• A supposed encyclopedia of crime, Murderpedia, claims, echoing Wikipedia, that "After Frank's lynching, approximately half of Georgia's 3,000 Jews left the state."
• The Writer's Theatre states in their "The Trial That Divided America," that "After the trial, 3,000 Jews fled Georgia out of fear." This is really remarkable, because it would mean, if we accept the Jewish press's fake Jewish population statistics, that every single Jew in Georgia fled the state!
• In a piece on the 100th anniversary of Leo Frank's death, Jewish writer Greg Bluestein tells us in Georgia's big newspaper, the Atlanta Journal-Constitution, that "As many as a half of Georgia's 3,000 Jews fled after the hanging."
• The Jewish newspaper Haaretz ups the ante even more, stating in a piece on Jewish history, "More than half of Georgia's 3,000 Jews left the state after Frank's killing." [emphasis added]
• A publication called Jewish Currents tells us, "The lynching led to the exodus from the state of about half of Georgia's 3,000 Jews."
• In 1994, Hadassah magazine's travel guide for the state of Georgia made the claim too, saying "half of Georgia's 3,000 Jews fled the state."
• Author Hal Erickson, ethnicity unknown, immediately after quoting Leonard Dinnerstein in his book Any Resemblance to Actual Persons, breathlessly informs us "Those not directly connected with the [Frank] case did their part by fomenting so much anti–Semitic vitriol that nearly half of the 3000 Jews in Atlanta moved out of the city."  (Now all 3,000 are in Atlanta alone! How confusing, and Orwellian, it is to accept all these mutually contradictory claims.)
• Criminology Professor Randy Blazak of Portland State University states in his video on Frank that "half of 3,000 Jews who lived in Georgia fled the state."
I am beginning to get the impression that all of these people are reading from the same script, have an agenda that doesn't include fidelity to the truth, and don't give a damn whether the script is true or not.
Jewish activists hover constantly over the Leo Frank page on Wikipedia, lest any truth-tellers add any information exposing the Jewish frauds and exaggerations vended by Dinnerstein and his ilk. Such deviations from the Jewish narrative about Frank are quickly and ruthlessly deleted, sometimes within minutes of being posted. Wikipedia repeats the lie about half of Georgia's Jews having to flee the state (and that lie has been on Wikipedia for years without being deleted). Wikipedia states flatly that:
After Frank's lynching, around half of Georgia's 3,000 Jews left the state.
Wikipedia's claimed "source" for this claim is a book by an evidently non-Jewish historian, Athan Theoharis, and another probable non-Jew, John Stuart Cox , entitled The Boss: J. Edgar Hoover and the Great American Inquisition. But an examination of this "source" indicates that it is ludicrously unreliable and flat-out wrong even in its brief summation of the Frank case.
The authors say that Leo Frank "was convicted in 1915" — wrong: He was convicted in 1913, two years earlier. The authors say Mary Phagan was fourteen when she died — wrong: She was thirteen. The authors say Frank was convicted on the "sole testimony" of Jim Conley — wrong: There were dozens of witnesses. The authors declare without even mention of proof as if it was established fact that Conley "was in fact the killer" — wrong: There is a great deal of controversy, even among Frank apologists, surrounding that claim. Four whoppers in just two sentences — Cox and Theoharis may not be Jews, but they are hacks, and they obviously know on which side their bread is buttered. Such is the legacy of Dinnerstein's corruption of scholarship, and Jewish corruption of scholarship generally. Such trash would deserve a grade of "F" as a high school essay, yet it is published by Temple University Press, and its author sits as a "professor of history emeritus" at Marquette University.
Well, what of this widespread claim that half of Georgia's Jews left the state in fear for their lives after the "horrific outbreak" of anti-Semitism evidenced by Leo Frank's "terrible persecution"? Is this claim backed up by evidence? Is there even a hint anywhere besides among Leonard Dinnerstein's Judenrating disciples that it might be true?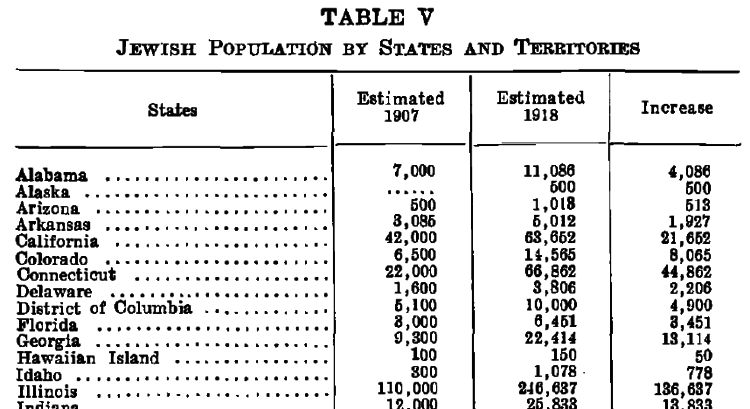 Let's look at the American Jewish Year Book, published in 1921, which gives population statistics for every state in the Union for the years 1907 — before the Frank case happened — and 1918, three years after his lynching. According to the Year Book, in 1907 there were 9,300 Jews in Georgia. Eleven years later, in 1918, there were 22,414 Jews in the state — well over a 100 per cent. increase! If the Jewish claims are true and there were about 10,000 Jews at the outset of the Leo Frank case — and half of them fled Georgia to save their lives after Frank was lynched — and considering that Jewish immigrants arriving in Georgia were only around 200 per year – then those 5,000 Jews supposedly left behind in 1915 would have to have had more than 15,000 children in three years, more than quadrupling their numbers in 36 months! That would be like the average American family going from a man and a wife and a child this year to a man, a wife, and ten children in just three years' time. That cannot happen. The Jews have been caught in a brazen lie again.
Is it beginning to dawn on you that you've been conned? Is it beginning to become obvious that the entire Jewish narrative on the Leo Frank case — the case that began the modern Jewish assault on truth and on the minds and souls and consciences of White Americans — is a tissue of easily-disproven lies?
On our next program about Jewish history distortion, we'll discuss the Jewish weaknesses exposed by their repeated pattern of the falsification of news and the falsification of history. That's all right here on American Dissident Voices.
* * *
You've been listening to American Dissident Voices, the radio program of the National Alliance. The National Alliance is working to educate White men and women around the world as to the nature of the reality we must face — and organizing our people to ensure our survival and advancement. We need your help to continue. Please send the largest contribution you can afford to National Alliance, Box 172, Laurel Bloomery, TN 37680 USA. You can also help us by visiting natall.com/donate. Make your life count.  Once again, our postal address is Box 172, Laurel Bloomery, TN 37680 USA. Until next week, this is Kevin Alfred Strom reminding you to keep on thinking free.