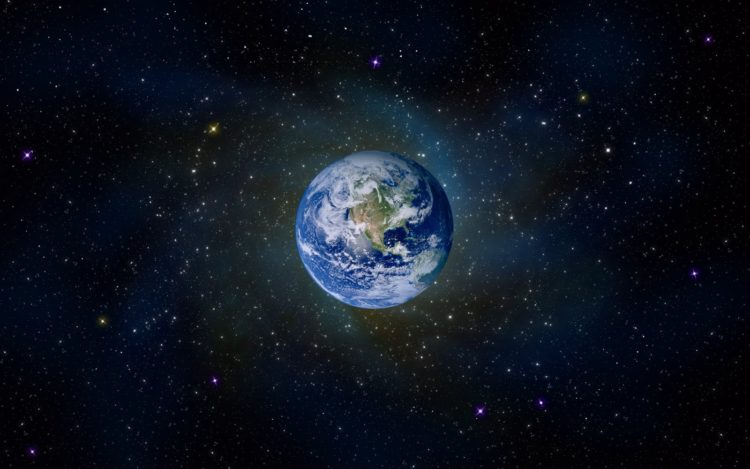 American Dissident Voices broadcast of March 10, 2018
by Kevin Alfred Strom
IS IT POSSIBLE to engage the implacable enemy we face, who wants our race dead, and whose weapons are deception and lies, both subtle and outrageous — an enemy who has tricked a diminishing but still immense portion of our race into being its Janissaries and cannon fodder — while still adhering to a religion that was created by that enemy? — while still holding as "sacred" a book written by that enemy? — while still regarding that enemy as a "god people" and one of that enemy as "the son of God"?
On the other hand, is it possible to face that enemy and build a new order and a new people with no spiritual or religious foundation?
To us, the answer to both questions is "no." That is why we need a new religion for us, and us alone.
Today we continue with part 8 of our series, "A New Religion for Us" — and we look at Cosmotheism, what I like to call the religion of the future, and what Dr. Pierce, its founder, liked to call the culmination of our race's search for ultimate truth. Today we hear of Cosmotheism as expressed in the words of some who have striven in recent years to understand our place in the Universe, who have worked with Dr. Pierce to build the Cosmotheist Community, or who have fought to remake the future into one which includes our people. We present to you these thoughts as read by Miss Vanessa Neubauer. Listen:
* * *
Will Williams, Chairman of the National Alliance, said of Cosmotheism:
[There are those who] are what's called "Big Tent" — those who want to open the Alliance to any and all "pro-White" comers of any ideology; and they do not follow Dr. Pierce's Cosmotheist belief system. I want nothing to do with compromisers who appeal to the herd with a watered-down message for the sake of expediency, for a short term gain in numbers. Dr. Pierce would not have approved of [that] departure from his vanguard approach, which was to attract that perceptive, responsible minority of our people who agree with our uncompromising, hard-line ideology, program, and strategy, and build a mass movement of will and determination around that core. It is really that simple and straightforward. . . .

[Cosmotheism] is a sound, Eurocentric, Nature-based belief system for our people for the 21st century and beyond, and I expect our members to understand that it is the fundamental basis of National Alliance ideology. Cosmotheism will be Dr. Pierce's greatest legacy to our race.
The British writer Max Musson discusses Cosmotheism in his essay, "God — A Work in Progress":
The universe, or the Cosmos as it should be more accurately described, is an immense random generation device in which matter has formed from the energy that was created, and has evolved through many stages, gradually increasing in complexity and the level of consciousness achieved by the most highly evolved life forms.

In searching for the purpose of life and the purpose of the Cosmos, there are many as yet unknowns, but it is clear that the Cosmos is a mechanism that facilitates evolution — the evolution of inanimate matter, but also living matter, through ever increasing levels of complexity, knowledge, power, and consciousness.

We humans, as far as we can tell, stand at the pinnacle of that evolutionary process, but there is no evidence to suggest that we are the 'end product', in fact the contrary. All of the evidence suggests that we are as Nietzsche describes, a 'stepping stone' from sub-man to super-man and beyond.

Cosmotheism asserts that providing we continue the process of evolution, mankind, or at least the currently most highly evolved elements of humanity, such as the White race, will evolve through ever higher and higher levels of consciousness, power, and knowledge until our future generations achieve a state of total consciousness and omnipotence. This will be the culmination of the Creator's work, the metamorphosis of the Creator from a pre-physical state, either with or without consciousness, but with an indefatigable 'will to be', through many stages to his/her eventual complete self-realisation as a conscious, sentient, all powerful, all knowing entity — Godhood.

This belief is the fundamental tenet of Cosmotheism, which unlike any other religion, is completely consistent with science and nature, and does not rely on blind faith or superstitious mumbo-jumbo in order to attain credibility.
The man who for many years worked most closely with William Pierce, the founder of the Cosmotheist church, was Fred Streed. In his piece entitled "A Cosmotheist Dialogue," published in the National Alliance BULLETIN, the monthly print publication of the National Alliance, Mr. Streed offers us his understanding of our creed in a question and answer format — the questions being actual ones posed by those who were engaging with him on the topic:
Q: Why doesn't the Alliance stick with Christianity and try to reform it?

A:Â Superstition passed off as religion is not a real option. If it were reformed to the point where it did not violate the laws of Nature, or resort to spiritual terrorism, it would no longer be Christianity anyway. Christianity needs to be realistically scrutinized, not reformed.

Q:Â My interest in Cosmotheism, such as it is, is in understanding why Dr. Pierce believed it to be necessary.

A:Â It is necessary because it is reality. It is necessary because Whites have a strong need for purpose in life. That need gets subverted by superstitious claptrap like Christianity. Cosmotheism is an understanding that our lives are lived in this physical world, not some otherworldly, pie-in-the-sky-when-you-die foolishness. Our one purpose is to advance life.

Q: Cosmotheism is okay, but the name is ridiculous — Scientology-level ridiculous — but there's a lot of good stuff there.

A: Dr. Pierce didn't invent the name; it was already in use. Call it Pantheism or Panentheism if it bothers you that much. Or invent a new name. It will still be Cosmotheism by the accepted definition. Dr. Pierce also didn't invent most of the concepts embodied in it. It's more a discovery of what is true than an invention of anything. Some seem Hell-bent on the idea that Cosmotheism is some kind of cult religion. It's not. Some evidently understand neither what it is nor its purpose. Others, I suspect, deliberately pretend it is a cult of made-up hokum like Scientology or Mormonism because they have an agenda of their own — and that agenda isn't the preservation and advancement of the White race.

Cosmotheism defined, according to Webster's New International Dictionary, 2d edition; 1934: "[cosmo-+-theism.] Ascription of divinity to the cosmos; identification of God with the world. Compare: PANTHEISM"

Q: Strictly speaking, Cosmotheism isn't a religion, in much the same way as Buddhism — or ancestor-worship — devoid of folk beliefs and the like, isn't a religion.

A: I would disagree with you there. I would say Cosmotheism is a true religion — and Christianity, Islam, and Judaism are not religions, but superstition operating under the cover of religion. I don't know how many times I have had some Christian tell me to "look up on a starry night and then try to deny there is a God." Truth is, I do experience a religious feeling of awe when I look at the Milky Way and reflect on the vastness of the Universe, the beauty, the grand scope of it all. But that doesn't make me think there has to be some transcendent Hebraic spook behind it all. There is an irony in a Christian tapping into a bit of genuine religion to justify his Bible-based nonsense.

Cosmotheism is simply a religious world-view based on a scientific understanding of Nature, at least to the extent we do understand reality. Scientific advances that alter our understanding of reality also help us achieve the one Purpose of life, which is to advance to higher states of consciousness and understanding. That is what Cosmotheism is. Contrast that with the dogma of the Christian churches, which resists changes in our understanding.

Q: If you really want to find religious elements in the National Alliance, just look at the way Dr. Pierce is treated nowadays. He was probably the most significant person in American racial nationalist thought, and was a great leader (let's face it, making intelligent and willful White folks pull together is about the hardest thing that a man can do), but where is the evolution of thought, and of the movement, that he started? It seems to have stopped when he died.

A:Â Nothing has stopped. His ideas are standing the test of time rather nicely. He is still widely read and quoted; his ideas still inspire.

Q:Â Where does the Jew fit into this Cosmotheist world view?

A: Life, at least life on this planet, as we all know, advances by becoming better adapted to its environment — it evolves new forms to take advantage of new or changed environments. Less adapted, less fit, life forms cannot compete, and are displaced and die out. Much environmental change has been random, a throw of the dice if you will, yet has served well to challenge and advance life to ever-higher states. The asteroid or comet that struck the Earth 65 million years ago and wiped out most of the then-existing species, including most or all of the dinosaurs, was one of those random events.

That event opened up ecological niches that had once been occupied by dinosaurs and other now-extinct animals. The small furry creatures who were the ancestors of all of today's mammals — including us — were able to diversify and exploit those niches, something they could not do while they served as dinosaur food. There have been several of these "extinction events" in the half billion years or so since complex multicellular life began; the one that wiped out the dinosaurs being the most recent.

The point of all that is that advancement in the complexity and fitness of life came about as a result of competition and the overcoming of adversity. That is where the Jew comes into the picture. The Jew is destruction incarnate. He is parasitism and degeneracy and chaos, toxic to all life. He is self-selected for this role. His purpose is to winnow the chaff from the grain, metaphorically speaking. The Jew brings rot and decadence. His personality is toxic. This shows in the Jews' preference for scatological humor, their championing of the sick, the weak, the base. But nowhere is it more clear than in their attacks on human sexuality, that most sacred of all our drives. The Jew poisons our reproductive urge with his promotion of homosexual sex, abortion, interracial sex, feminism, "gay" marriage, and endless further combinations of filth and degeneracy. He counters our art with anti-art, he counters our high culture with trash cinema and boob-tube debauchery, he counters our sacred genome with the promotion of mixing with Congoids and Mestizos.

At some level the Jew knows exactly what he is, subconsciously or consciously. That is why he is so extremely sensitive to any resistance to his destructiveness. It also explains his fascination with the "Holocaust" that didn't happen. He is obsessed with the idea that some day he will be called to account for his depredations. He knows that truth cannot be covered up indefinitely and that justice cannot be evaded forever.

The Jew, of course, springs from the same Creator/universe as we do. His purpose is to weed out the weak and degenerate among us. That doesn't mean he is not evil: If we understand evil to be anything that hinders the One Purpose, which is ever higher levels of consciousness, then he is indeed evil. He is an integral part of a duality that is actually different manifestations of the One, which is the all. The Jew exists for us to defeat. If we do not defeat him, we will die — and, in fact, will have proved ourselves unworthy of life. To fail at that task will consign our race to the grave forever, and probably will mean the extinction of life on this planet.
* * *
You have been listening to the eighth program in our series "A New Religion for Us," as read by Vanessa Neubauer.
In future programs in this series we will continue exploring this new spiritual path for our race — the revolutionary Nature-based religion of Cosmotheism, coming up right here on American Dissident Voices.
* * *
You've been listening to American Dissident Voices, the radio program of the National Alliance. The National Alliance is working to educate White men and women around the world as to the nature of the reality we must face — and organizing our people to ensure our survival and advancement. We need your help to continue. Please send the largest contribution you can afford to National Alliance, Box 172, Laurel Bloomery, TN 37680 USA. Make your life count. You can also help us by visiting natall.com/donate. Once again, our postal address is Box 172, Laurel Bloomery, TN 37680 USA. Until next week, this is Kevin Alfred Strom reminding you of the words of Richard Berkeley Cotten: Freedom is not free; free men are not equal; and equal men are not free.