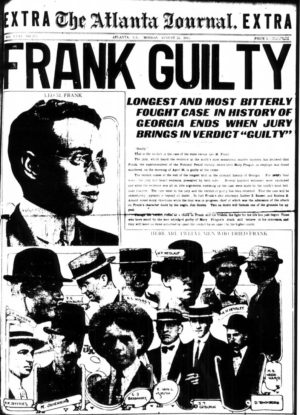 American Dissident Voices broadcast of August 29, 2015
by Kevin Alfred Strom
IT WAS a century ago this month that Leo Frank, the president of Atlanta's B'nai B'rith, met his death. His arrest and eventual conviction and execution for the grisly sex murder of little Mary Phagan set off a huge national campaign by the Jewish power structure, in which unheard-of sums were spent to reverse the verdict of the jury, which found Frank guilty of murder. The central theme of this Jewish campaign was that Frank was a "victim of anti-Semitism" and that the charges against him were baseless. An entire literature has grown up around these claims, it has infected the academy and, through distorted media accounts, colored the average reader's perception of the case. We of the National Alliance aim to correct that perception: Leo Frank was found guilty, and his guilt is the only reasonable explanation of the facts of the case.
The Jews are losing control of the Leo Frank narrative, as search results and the public comments on the controlled media's articles clearly show. Today we conclude our series on the Frank case with part 3 of the new audio book by Vanessa Neubauer, based on the series published in the American Mercury by Bradford L. Huie. We now offer you "100 Reasons Leo Frank is Guilty," part 3. I give you Miss Vanessa Neubauer:
* * *
78. Several witnesses — for both the prosecution and the defense — testified that they saw Jim Conley sitting, doing nothing, in the dark recesses of the lobby of the National Pencil Company on the morning of the murder. Does this fit the contention of the prosecution that Frank requested Conley's presence on that day, as he had on others, so Conley could be a lookout while Frank was "chatting" with a teenage girl? Or does it make more sense to believe that Conley really believed he could get away with loafing on company property without permission all morning? Did black janitors in 1913 also have the right to make their own working hours, even on a holiday when there would have been little call for their services — and then, after showing up for "work," not work at all?
79. Does it really make sense that the somewhat literate and fairly intelligent Jim Conley, a black man in the extremely race-conscious and white-dominated Atlanta of 1913, where lynch law often reigned supreme, actually thought he could get away with attacking and killing a white girl just a few feet away from the unlocked front door of the factory where he worked, in the highest-traffic area of the building? And does it make sense that he would do so for $1.20 — Mary Phagan's entire pay — as the defense alleged? If Conley was plotting to rob someone, does it make sense that he would choose such a place to do so — or choose from a pool of potential victims considerably poorer than he was?
80. The fatal Saturday was a holiday. Jim Conley had been paid his $6.05 salary the evening before. By his standards, he had plenty of money — and it would have been very hard to drink it down very much on Friday, at a nickel a pint in those days. Conley was a man who liked his beer and billiards, and the town was wide open for that kind of fun all day. Why was he there at the factory, then? He certainly wouldn't have wanted to be there, doing apparently nothing for hours on end. He also ran the risk of being disciplined if he was loafing there without permission. He was manifestly not sweeping, his ostensible job, on that day — he was just sitting, watching. The only reasonable explanation is that his boss, Leo Frank, had asked him to be there for that very purpose.
81. The relationship of Leo Frank and the National Pencil Company to Jim Conley was a strange one. Why was Jim Conley's sweeper's salary much higher — $6.05 versus $4.05 — than the average of the white employees, many of whom were skilled machine operators? Could it be that Conley served a very important but secret purpose for Leo Frank, exactly as the prosecution alleged? Could he have had knowledge that could potentially hurt Leo Frank, justifying Frank granting him special privileges?
82. According to a female National Pencil Company employee, Jim Conley was once caught "sprinkling" (urinating) on the pencils, surely a very serious offense. But Conley was never fired. (Trial Testimony of Herbert George Schiff, Brief of Evidence, Leo Frank Trial, August, 1913) Again, could it be that James Conley served a very important but secret purpose for Leo Frank, and could he have possessed knowledge that could damage Frank?
83. According to fellow employee Gordon Bailey (Leo Frank trial, Brief of Evidence, August, 1913) Jim Conley was not always required to punch the time clock. Why would the "Negro sweeper," as they called him, surely the lowest-ranking employee in the pencil factory hierarchy, be given such an unprecedented privilege by Leo M. Frank? Why was Jim Conley the only person out of the 170 factory employees who didn't have to punch the time clock — unless Jim Conley was more than meets the eye?
84. In 1983, the Anti-Defamation League of B'nai B'rith (ADL), along with other Jewish groups, spearheaded a campaign to get the Georgia State Board of Pardons and Paroles to issue a posthumous pardon to Leo Frank, basing their case largely on the 1982 statement of Alonzo Mann. The Board found that Mann's statement added no new evidence to the case. They also noted that Governor Slaton in his 1915 commutation decision had already considered that the elevator may not have been used to move Mary Phagan's body, but nevertheless he upheld Frank's conviction. The ADL's petition was denied and Leo Frank's guilty verdict was affirmed.
85. The ADL and other Jewish groups filed again in 1986 for Leo Frank to be pardoned by the Georgia State Board of Pardons and Paroles. This time the Jewish groups claimed that, because the state of Georgia had failed to prevent the lynching of Leo Frank after his sentence was commuted by Governor Slaton, Leo Frank's rights had been violated and he should be pardoned on that basis alone. A great deal of pressure was applied to the Board via sensational stories, editorials, and even fictionalized accounts in the media. With this far more limited claim — that Frank was not protected from lynching as he ought to have been — the Board was compelled to agree. But the Board would not and did not exonerate Leo Frank of his guilt for the strangulation death of Mary Anne Phagan on April 26, 1913. His conviction for her murder still stands.
86. Lucille Selig Frank, Leo Frank's wife, is known as a fiercely loyal spouse who passionately defended her husband against charges both criminal and moral, and stood by his side during his trial and appeals. There are some indications, however, that she may have early on during the Mary Phagan case believed that her husband had not been entirely faithful and had in fact killed Mary Phagan, probably believing it to be accidental. Long after her husband's death, she may have returned to those views.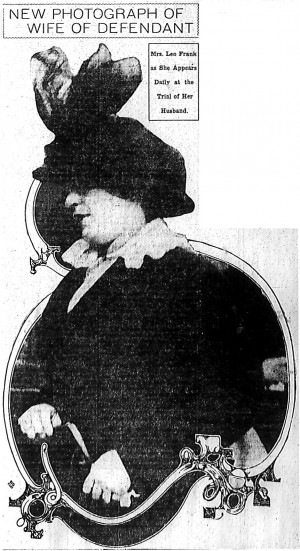 State's Exhibit J at Leo Frank's trial consisted of an affidavit by Minola McKnight, the Frank's black cook. Mrs. McKnight first came to the attention of the authorities when her husband told police that his wife had heard some startling revelations while working at the Frank residence the evening of the murder — namely, that Leo Frank had drunkenly and remorsefully admitted to his wife that he and a girl "had been caught" at the factory, that he "didn't know why he would murder" her, and that he asked his wife Lucille to get him a pistol so he could kill himself.
These are Minola McKnight's own words from the affidavit: "Sunday, Miss Lucille said to Mrs. Selig that Mr. Frank didn't rest so good Saturday night; she said he was drunk and wouldn't let her sleep with him… Miss Lucille  said Sunday that Mr. Frank told her Saturday night that he was in trouble, and that he didn't know the reason why he would murder, and he told his wife to get his pistol and let him kill himself… When I left home to go to the solicitor general's office, they told me to mind how I talked. They pay me $3.50 a week, but last week they paid me $4.00, and one week she paid me $6.50. Up to the time of the murder I was getting $3.50 a week and the week right after the murder I don't remember how much she paid me, and the next week they paid me $3.50, and the next week they paid me $6.50, and the next week they paid me $4.00 and the next week they paid me $4.00. One week, I don't remember which one, Mrs. Selig gave me $5, but it wasn't for my work, and they didn't tell me what it was for, she just said, 'Here is $5, Minola.' I understood that it was a tip for me to keep quiet. They would tell me to mind how I talked and Miss Lucille gave me a hat."
(Leo Frank admitted that he bought a box of chocolates for his wife on the way home on the evening of the day of the murder.) Minola McKnight would tell a different story after she was back in the Frank household, however. She then repudiated her affidavit and said police had coerced it from her. But neither she nor anyone else has given a credible motive for Minola's husband to have lied.
After Leo Frank's arrest, Lucille did not visit her husband for some thirteen days, after which she began her loyal and indomitable defense of him. What made her wait? Leo Frank's explanation was that Lucille had to be "physically restrained" because she wanted so badly to be locked up with him in jail. Judge for yourself the credibility of this explanation against that offered in State's Exhibit J.
Lucille Frank died in 1957, and in her will she specifically directed that she be cremated and thus not buried next to, or with, her first and only husband, Leo Frank — even though a plot had already been provided for her next to him.
87. Leonard Dinnerstein is an author who has made almost his entire career writing about anti-Semitism, with a special concentration on proving that Leo Frank was a victim of anti-Semitism. His book, The Leo Frank Case, is promoted as a canonical work — and is one of the main sources for the claims that 2) anti-Semitism was pervasive in 1913 Georgia and 2) that anti-Semitism was the major factor in the prosecution and conviction of Frank.
Both of these claims are hoaxes, as shown by Elliot Dashfield writing in The American Mercury: "Dinnerstein makes his now-famous claim that mobs of anti-Semitic Southerners, outside the courtroom where Frank was on trial, were shouting into the open windows 'Crack the Jew's neck!' and 'Lynch him!' and that members of the crowd were making open death threats against the jury, saying that the jurors would be lynched if they didn't vote to hang 'the damn sheeny.'
"But not one of the three major Atlanta newspapers, who had teams of journalists documenting feint-by-feint all the events in the courtroom, large and small, and who also had teams of reporters with the crowds outside, ever reported these alleged vociferous death threats. And certainly such a newsworthy event could not be ignored by highly competitive newsmen eager to sell papers and advance their careers. Do you actually believe that the reporters who gave us such meticulously detailed accounts of this Trial of the Century, even writing about the seating arrangements in the courtroom, the songs sung outside the building by folk singers, and the changeover of court stenographers in relays, would leave out all mention or notice of a murderous mob making death threats to the jury?
"During the two years of Leo Frank's appeals, none of these alleged anti-Semitic death threats were ever reported by Frank's own defense team. There is not a word of them in the 3,000 pages of official Leo Frank trial and appeal records – and all this despite the fact that Reuben Arnold [Frank's attorney] made the claim during his closing arguments that Leo Frank was tried only because he was a Jew… Yet, thanks to Leonard Dinnerstein, this fictional episode has entered the consciousness of Americans of all stations as 'history' – as one of the pivotal facts of the Frank case."
88. In his book attempting to exonerate Frank, Leonard Dinnerstein knowingly repeats the preposterous 1964 hoax perpetrated by "hack writer and self-promoter Pierre van Paassen" (Dashfield, The American Mercury, October 2012):
"Van Paassen claimed that there were in existence in 1922 X-ray photographs at the Fulton County Courthouse, taken in 1913, of Leo Frank's teeth, and also X-ray photographs of bite marks on Mary Phagan's neck and shoulder – and that anti-Semites had suppressed this evidence. Van Paassen further alleged – and Dinnerstein repeated – that the dimensions of Frank's teeth did not match the 'bite marks,' thereby exonerating Frank… Since Dinnerstein is such a lofty academic scholar and professor, perhaps he simply forgot to ask a current freshman in medical school if it was even possible to X-ray bite marks on skin in 1913 – or necessary in 2012, for that matter – because it's not. In 1913, X-ray technology was in its infancy and never used in any criminal case until many years after Leo Frank was hanged." Furthermore, there is no hint anywhere in the massive official records of the Leo Frank trial and appeals of any "bite marks." If Leo Frank is manifestly and truly innocent, why do his supporters have to engage in such outrages against truth?
89. Far from being a region rife with hatred for Jews, the South in general and Atlanta in particular were regarded by Jews as a haven and as a place nearly free from the anti-Semitism they suffered in other parts of the nation and the world. Even today, and even after Jewish-gentile relations there were strained by the Frank case and by Jewish support for the civil rights revolution, the Christians who form most of the population of the South are stoutly pro-Jewish. The South is the center of Christian Zionism and American support for the Jewish state of Israel.
90. Harry Golden wrote in the American Jewish Committee's magazine Commentary that early "Bonds for Israel" salesmen would purposely seek out Southern Christians, since they were almost all passionately pro-Jewish and pro-Israel. When Southerners were asked about their reasons for supporting Zionism, Golden said that a typical Southerner's response was "It's in the book!" — meaning, of course, the Bible. This attitude had deep roots and certainly did not materialize in 1948.
91. The writer Scott Aaron gives insight into Southern attitudes toward Jews when he says: "In the race-conscious South of 1913, Jews were considered white. In fact, in the newspapers of Atlanta before, during, and after the trial of Leo Frank for the murder of Mary Phagan, Frank was referred to as a 'white man' on innumerable occasions by reporters, witnesses, African-Americans, fellow Jews, pro-Frank partisans, and anti-Frank polemicists. Jews, furthermore, were not known for violent acts or crimes, nor feared as violators of white women. If anything, they were seen as an unusually industrious, intelligent, and law-abiding segment of society, even if they were a bit peculiar in their religious views.
"Marriage between Jews and Christians might have raised a few eyebrows in both communities – just as did intermarriage between members of widely different Christian denominations – but it was far from unknown, and such couples were not ostracized. In fact, Leo Frank's own brother-in-law, Mr. Ursenbach, with whom he canceled an appointment to see a baseball game on the day Mary Phagan was killed, was a Christian.
"If there was prejudice against Leo Frank in 1913 Atlanta, it was almost certainly not because he was a Jew. He was, however, a capitalist, a business owner, a manager, an employer of child labor, and a Northerner with an Ivy League education. He also came to be known during the course of the trial as sexually profligate. These facts probably did count against him."
92. Aaron also cites a study funded and published by a Jewish group: "John Higham, in his 'Social Discrmination Against Jews 1830 – 1930,' a work commissioned by the American Jewish Committee, called the South 'historically the section least inclined to ostracize Jews,' and drew attention to the 'striking Southern situation' of almost no discrimination against Jews there. True, Jewish-Gentile relations had somewhat declined there by the mid-twentieth century, and the massive campaign during the Frank appeals to paint his prosecution, and the South generally, as anti-Semitic — and the eventual creation of the Anti-Defamation League in the wake of Frank's death — played their part in this change…
"But the aftermath of the Frank trial had no part, of course, in the attitudes of the people of Atlanta on the day Mary Phagan was murdered. All things considered, the South in general and Atlanta in particular seem to have been, if anything, safe havens for Jews where they might escape from the anti-Semitism that was rampant around the beginning of the last century."
93. Southern attitudes toward Jews can be further gauged by the fact that, during the Civil War, Southerners made a Jew their Secretary of the Treasury: Judah P. Benjamin was the first Jewish appointee to any Cabinet position in any North American government. Benjamin also served as Attorney General, Secretary of State, and Secretary of War for the Confederate States of America. He was so highly regarded that his portrait graced the paper money of the South. Meanwhile, around the same time, Northern general Ulysses S. Grant issued an order physically expelling all Jews from the parts of the South under his control, even demanding that they leave a huge multi-state area "within 24 hours."
The claim that a pervasive and vicious anti-Semitism was the real reason for the prosecution and conviction of Leo Frank is an absurd lie and a fantastic misrepresentation of history. Nevertheless, it is now the stuff of innumerable works of alleged scholarship, drama, and fiction, and is viewed by naive students who are exposed to such works as the central "truth" of the case. If Leo Frank were innocent, why would his supporters have to fabricate such blatant impostures and engage in emotional blackmail on a colossal scale?
94. Researcher Allen Koenigsberg states that some of the most intriguing and important parts of Minola McKnight's sworn affidavits have, for some reason or other, been completely omitted from the current literature on the Frank case:
"One of the most intriguing circumstances in the pre-trial development of this case involved a document signed by the black cook in the Frank/Selig household (Minola McKnight). Frank's attorneys would long argue that it was coerced by the police as a result of 'third degree methods.' Since 1913, it has never been shown in its entirety, and we are glad to present it here [ http://www.leofrankcase.com/ ]. Also unmentioned in the last nine decades is the sequence of events that led up to its appearance. Minola would make three affidavits in all (May 3rd, June 2nd and 3rd), but her overnight incarceration was specifically caused by her husband Albert's statement made on May 26, and notarized on June 2nd [ also at http://www.leofrankcase.com/ ]. This description of events has never been cited, with only an oblique reference in the Samuels' Night Fell on Georgia (1956).
"The most striking sentence (and odd omission) is shown here for the first time: 'Mrs. Frank had a quarrel with Mr. Frank the Saturday morning of the murder she asked Mr. Frank to kiss her good bye and she said he was saving his kisses for _______ and would not kiss her.' Readers may wish to consider its authenticity, as new light is shed on why Leo Frank 'so thoughtfully' bought his wife a box of chocolates from Jacobs' Pharmacy just before returning home at 6:30 PM on April 26th." (LeoFrankCase.Com, Retrieved 2012).
95. Much has been made of the fact that Jim Conley's attorney, William M. Smith, eventually believing his own client to be guilty, made an analysis of the language used by Conley on the stand and, comparing it to the language used in the death notes, concluded that the real author of the notes was Conley. Therefore, Smith's theory went, the notes had not been dictated by Leo Frank as Conley had testified. Many greeted this "revelation" with well-deserved derision. Few believed that Frank would have insisted that Conley copy his language exactly, word for word (though Hugh Dorsey made the mistake of suggesting this was so in his closing arguments). In fact, the death notes would serve their intended purpose — to place blame for the murder on a black man — much more effectively by being written in the natural language of an authentic speaker of Southern black dialect, and surely that is a fact that no intelligent murderer would fail to see and act upon.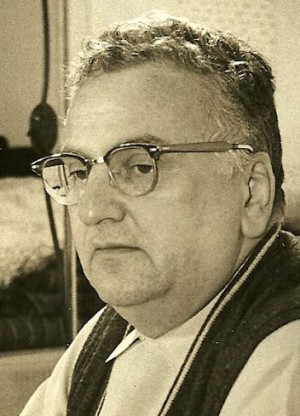 96. In his book, A Little Girl Is Dead, writer Harry Golden, though not incapable of objective journalism (for example, he once reported that Southerners had unusually favorable attitudes to Jews), may have perpetrated the most outrageous hoax in the Frank case. Golden claimed that Jim Conley had made a deathbed confession to the murder of Mary Phagan. But famed pro-Frank researcher and author Steve Oney (very charitably) says of Golden that this was "wishful thinking."
Oney went to great lengths to follow up on Golden's claim: "Over the last few years legal aides have rifled through microfilm files in libraries across the South searching for news of Conley's confession. They have found nothing." (Oney, "The Lynching of Leo Frank," Esquire, September 1985)
97. It seems unlikely that Hugh Dorsey was motivated by anti-Semitism in his prosecution of Leo Frank, considering that a partner in his law firm was Jewish. It's preposterous to even have to ask the question, but if Dorsey hated Jews enough to send one to the gallows as an innocent man, why would he tolerate — and proudly claim, as he did at trial — such a close association with a Jewish man? And, if Dorsey was guilty of such vicious malice against Jews, why would his partner continue the association himself? (Closing arguments of Hugh Dorsey, Leo Frank trial)
98. Why did the Leo Frank defense team, consisting of some of the most skilled attorneys in the state, refuse to cross-examine 20 young women and girls who testified that Frank had a bad moral character? Under Georgia law, the prosecution was only allowed to use these witnesses' testimony to enter the general fact that Frank's character was bad. Under cross-examination, though, the defense could have forced the girls and women to give specific reasons and relate specific incidents that supported their opinion, and trip them up if they could. Why, then, did they not do so? The only reasonable answer: They knew Leo Frank's character, and they did not dare allow any specifics to go before the jury.
99. One of the most bizarre hoaxes in the Phagan case was that surrounding insurance salesman W.H. Mincey. On the afternoon of the murder, Mincey claimed that Jim Conley, on the public streets of Atlanta and with no prompting — and for no apparent reason whatever — confessed to murdering a girl that very day.
According to the contemporary book The Frank Case, p. 66: "Mincey asserted that late in the afternoon he was at the corner of Electric avenue and Carter streets, near the home of Conley, when he approached the black, asking that he take an insurance policy. The negro told him, he said, to go along, that he was in trouble. Asked what his trouble was, Mincey swore that Conley replied he had killed a girl. 'You are Jack the ripper, are you?' said Mincey. 'No,' he says Conley replied, 'I killed a white girl and you better go along or I will kill you.'"
That this tale could be accepted by any man in possession of his reason is doubtful, but nevertheless the Frank defense team seriously asserted in court their intention to call Mincey as a witness. They withdrew him, however, after the prosecution was said to have discovered Mincey's problematic relationship with the truth and had 25 witnesses prepared to impeach him — and furthermore intended to produce copies of several books Mincey had written on the subject of "mind reading."
100. Mary Phagan's grand-niece, Mary Phagan Kean, relates in her book The Murder of Little Mary Phagan that her grandfather William Joshua Phagan, Jr. (Mary Phagan's brother) confronted Jim Conley in private in 1934, and was ultimately convinced that the former factory sweeper was telling the truth. At times so emotionally moved that he could barely hold back tears, William Phagan finally told Conley that he believed him — and said that, if he had thought he was lying, "I'd kill you myself." After the intense meeting was over, Jim Conley and Mary Phagan's brother went out for a drink.
In truth, there are more — far more — than 100 reasons to believe that Leo Frank was guilty of murdering Mary Phagan. There are far more than 100 reasons to believe that the claim of widespread "Southern anti-Semitism," virtually promoted as gospel today, is a complete and malicious fraud. There are far more than 100 reasons to believe that Frank's defenders have used perjury, fraud, and outright hoaxes to impose their view of the case on an unsuspecting public.
I urge each and every one of you to read the original source materials I have catalogued in the Appendix which follows this article. Only by seeing what the jury saw — by reading what the people of Atlanta read as events unfolded — uncensored and without the nuance and spin of modern authors who are, with but a very few exceptions, uniformly dedicated to one side — can you truly understand the tragedy of little Mary Phagan and the whirlwind her death unleashed.
In my opinion, the most horrible imposture, the real injustice, in the Frank case as it stands today is that millions of trusting men and women, children and students, all across the world have been forcefully imprinted, by a relentless multimillion-dollar media campaign, with the idea that Leo Frank  — the monster who almost certainly abused and strangled bright and beautiful Mary Anne Phagan to death — is the "real victim" in this case.
* * *
You've been listening to Vanessa Neubauer's new audio book, based on the American Mercury's series "100 Reasons Leo Frank is Guilty."
The Leo Frank affair remains significant 100 years later. It's important for us to understand just how weak and insupportable the Jewish propaganda is about this case. It's important for the memory of Mary Phagan and the peace of mind of her family to know that her real killer was justly convicted. It's important to understand how the world's wealthiest and most powerful ethnic group — the Jews — tried to make Southern Whites feel guilty about an "anti-Semitism" that never existed. It's important to understand that this same Jewish power structure has gone on to inculcate guilt in all White men and women for their supposed part in slavery and "racism" — with "evidence" just as thin, just as preposterous. And it's very, very important to understand that with some dedication and courage and work, we can defeat these media liars in their own arena and change the minds of millions of people.
* * *
You've been listening to American Dissident Voices, the radio program of the National Alliance, founded by William Luther Pierce in 1970. This program is published every week at Whitebiocentrism.com and nationalvanguard.org. You can join and support us by visiting natall.com — or write to National Alliance, Box 172, Laurel Bloomery, TN 37680 USA. We welcome your support, your inquiries, and your help in spreading our message of hope to our people. Once again, that address is Box 172, Laurel Bloomery, TN 37680 USA. Until next week, this is Kevin Alfred Strom reminding you to keep on thinking free.